Skip to Content
5 Benefits of a Basement Renovation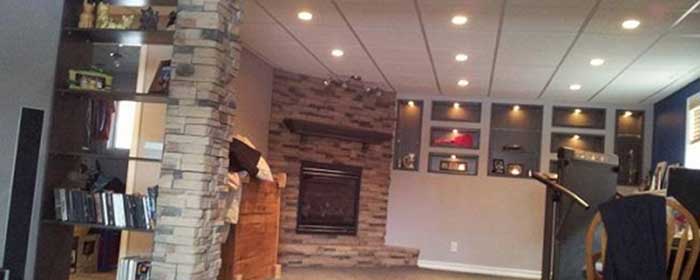 Why should I renovate my basement? Is a basement renovation worth the money? Will the extra space of a finished basement go to waste? Do these questions look familiar? Instead of looking at a basement renovation as lost income or time, you should see an unfinished basement as a lost opportunity. Here are 5 reasons why a basement renovation would be beneficial to you and your family.
1) Increase the Value of Your House
A home's value or appraisal is based on its finished square footage. When you have a finished basement, the value of your home increases giving you a great return on investment for your basement renovation. With that, we can flow right into our next point.
2) Faster and Easier Re-Sell
When you have a finished basement it increases the value of your house and also makes it more appealing to homebuyers when you put it on the market. A finished basement can solidify a buyer's decision as it can be perceived as an added luxury to their purchase and a bonus because they don't have to take the time and money to renovate the basement.
3) Additional Income
Building a legal suite in your basement can provide you with long-term financial gain. This option is really good for those who feel like they have more space than they need or don't intend to use their basement. Before making the decision to renovate your basement so that you have a legal suite to rent, make sure your house is structured for this. This could include having a separate entrance to the basement, a shareable laundry room, basement windows, and available parking space for residents.
4) More Space!
Typically, basements are close to the same size as the main floor so by finishing it you double the amount of livable space. It's an obvious point to make, but it's a good reminder to clients who are debating a basement renovation. Making your basement habitable can really increase your quality of life at home. You can have an area for entertaining, a play place for children, the at-home workout area you dreamed of, or just a relaxing space away from all the noise. In addition to that, more time at home for entertaining and exercising purposes could save you money and travel expenses.
5) Options for a Growing or Aging Family
A growing family and limited space don't have to be the reason why you move into a bigger home. Adding rooms to your basement can solve some of these issues. Adding more bedrooms and bathrooms in your basement can help you plan for the future. The additional space can be useful for your growing family, which can be children or even parents! Depending on the size of the space, you can have multiple rooms put in the basement for family and for any visitors. Or, transform your whole basement into a legal suite for your grown-up children or parents.

Mario LaFlamme
Mario has worked as a general contractor and renovator for over 19 years. He has a degree in Business & Management, and while in college operated a Student Painting Company, and was the most successful of his franchise colleagues. After college, he opened a renovation company in Quebec. He moved to Edmonton with the intention of improving his English and perfecting his skills in general contracting. He has worked for different contractors and learned many aspects of the business. He has built relationships with other contractors such as electricians and plumbers, who share his perfectionist attitude towards home renovation. Mario wants to help you have the best home lifestyle possible.