Skip to Content
Evaluating Cabinet Options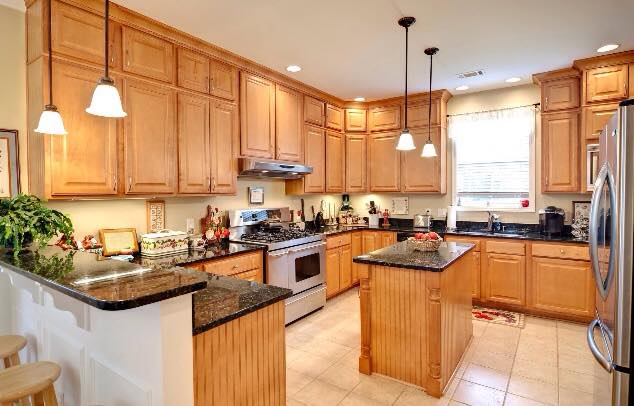 When we get called in for a kitchen renovation, one of the questions we hear most often is about cabinet options. A lot of people are aware of the terms "re-facing" and "custom cabinets" and associate those two terms with "affordable" and "expensive."
First, we explain the difference in structural components between re-facing, pre-made box store cabinets, and custom cabinets before going into more detail on cost. This gives our clients a better sense of why there is a cost difference and what they are really getting with that.
Re-facing is nothing more than taking the shell of the cabinets off and replacing it with new components. This means replacing the doors, the end panels (or applying to end panels), the crown molding, the under-cabinet valence, and the toe kick with new parts. This way the color can also be changed. This does not fix or repair the cabinets themselves. It is simply changing the cover to make it look good. There is a market for this with people who are looking to flip a house or to make a rental unit look better. It isn't cheap, however. Most people who do this kind of work have to charge approximately 65% of a new kitchen because of the labor involved.
Another cabinet option is purchasing already made cabinets from a store or supplier. While these are seen as "brand new" cabinets, the quality is not always reliable. The box stores and other imports have decreased the quality of the cabinets to the point where they frequently need to be changed within a 10-year period. This is a result of increasing supply and making the product quickly to meet demand.
Custom kitchen cabinets involve changing the complete cabinets along with its outer shell and are made specifically to your kitchen. It is more costly and if the cabinets are built properly it is not uncommon to have them look good and work well for over a 25-year period. The key to custom cabinets is having them "built properly."
Now that the structural comparison is made between re-facing, box store cabinets, and custom cabinets, we can go into detail on price. Price is often the criteria for not buying custom cabinets. If everything is calculated properly the difference between box store cabinets and custom cabinets is usually less than a 20% difference. This is not much of a difference if you consider the quality of the product and the lifespan of them.
In summary:
Re-facing Cabinets Box Store Cabinets Custom
Expected Life 5 – 10 years 7 – 12 years 20 – 30 years
Costs 65% 80% 100%
Certain situations will dictate the appropriate direction to take but in all cases, new custom cabinets give you the best value for your dollar.

Mario LaFlamme
Mario has worked as a general contractor and renovator for over 19 years. He has a degree in Business & Management, and while in college operated a Student Painting Company, and was the most successful of his franchise colleagues. After college, he opened a renovation company in Quebec. He moved to Edmonton with the intention of improving his English and perfecting his skills in general contracting. He has worked for different contractors and learned many aspects of the business. He has built relationships with other contractors such as electricians and plumbers, who share his perfectionist attitude towards home renovation. Mario wants to help you have the best home lifestyle possible.