Skip to Content
The ABC's of Upgrading Your Kitchen on a Budget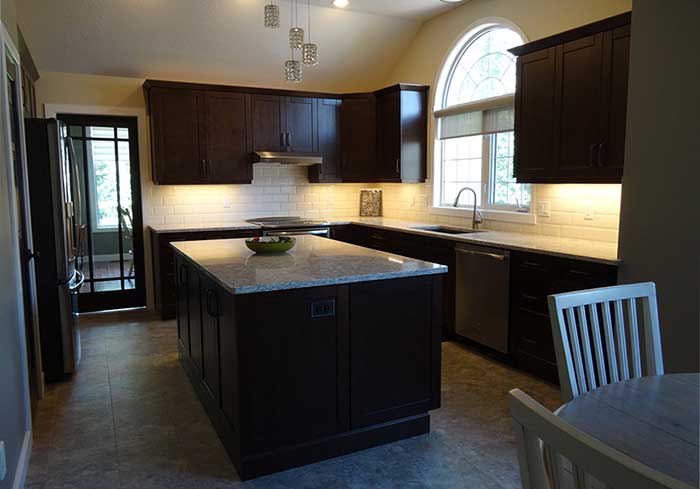 Most would agree that the kitchen is one of the most important rooms in their home. You spend a lot of time in your kitchen and when you have company over everyone seems to gravitate there. It is no wonder that when people are looking to have renovations done, they have their kitchen as one of the top three rooms they want to be upgraded.
While a ceiling to floor upgrade renovation is ideal, it's not always feasible. For this reason, when we work with customers with a budget upgrade request, we recommend they follow the ABC's formula, concentrating on accessories, backsplash, cabinets, and countertops. The ABC's formula establishes priorities, emphasizing the highest cost-effective to visual impact ratio.
Accessories
An affordable and easy way to upgrade your kitchen is a DIY project involving replacing accessories such as appliances, cabinet hardware, and sink and faucet fixtures. After 10 or more years of using your kitchen, it is expected to see wear and tear in these items.
A great aspect of replacing accessories is that they can be replaced more frequently without spending a lot of money. You can have the look and feel of a new kitchen every couple of years!
Backsplash
A bask splash is a good way to add personality, color, and texture to your kitchen upgrade. It's an easy fix that is budget appropriate since the cost of installation and the product is quite reasonable.
The backsplash products that we recommend to our clients are budget-friendly porcelain subway tiles. These tiles are compatible with a variety of kitchen styles and color schemes.
Cabinets and Countertops
When working with a budget renovation, we strongly recommend our clients allocate most of their funds to the cabinet and countertop part of the renovation. This is where you will see a major transformation in your kitchen and where you will gain a greater return on investment.
First, let's discuss the purpose of upgrading your cabinets. When working with older kitchens, we occasionally come across questions about resurfacing cabinets versus installing brand new ones. Frequently, older cabinets have structural damage and may need to be replaced in a few years. Also, the cost difference between resurfacing and having new cabinets installed is not as substantial as most people believe.
For this reason, we recommend our clients get new cabinets. Typically, the most cost-effective cabinets are white melamine with a flat door. With this, you have that fresh new looking kitchen with cabinets that are structurally reliable*.
Next on the ABC's budget kitchen upgrade are countertop renovations. Countertops play hand in hand with cabinets. It is very difficult to upgrade one and not the other without one piece of the kitchen looking out of place. Laminate countertops are the best way to go when upgrading your kitchen on a budget. They are economical and versatile and make changing your kitchen style every few years much more affordable.
Mario LaFlamme Contracting and Renovation Ltd. is available to help you with your small to large budget projects. Please give us a call at 780-235-4666 to discuss your next project.
*Interested in learning more on this topic? We will be providing more information on cabinet resurfacing versus building new cabinets in the October edition of our blog.

Mario LaFlamme
Mario has worked as a general contractor and renovator for over 19 years. He has a degree in Business & Management, and while in college operated a Student Painting Company, and was the most successful of his franchise colleagues. After college, he opened a renovation company in Quebec. He moved to Edmonton with the intention of improving his English and perfecting his skills in general contracting. He has worked for different contractors and learned many aspects of the business. He has built relationships with other contractors such as electricians and plumbers, who share his perfectionist attitude towards home renovation. Mario wants to help you have the best home lifestyle possible.