Skip to Content
Low Maintenance Deck from A to Zek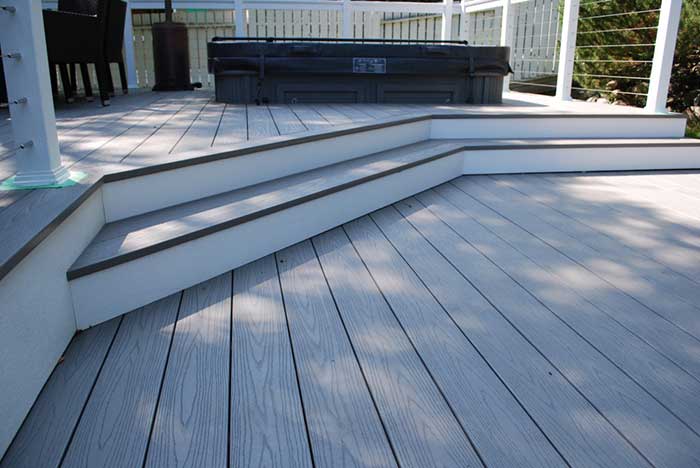 As soon as summer hits Edmonton, the first thing people say is, "patio season!" Some spend their time on a restaurant patio while others enjoy their time in the serenity of their backyard. Decks are great for summer relaxing but the renovation and maintenance of a traditional wooden deck can eat up those precious summer hours.
What if you could have a deck that had every luxury of a wooden deck minus the stress of maintaining one? Let me introduce you to an innovative product called Azek composite plank board.
Aesthetic Appeal
Azek decks look and feel like a wooden deck. The boards come in a variety of colors and hold their color much longer than a wood deck would. With no deterioration in the color, you are not hassled with painting or replacing your boards to keep that fresh look.
Another aesthetic feature to consider is that Azek planks have caps that go on top of screws so the screws blend into the boards, making it more visually appealing. Typically with a wood deck, nasty nails can pop out over time creating a potential hazard and eyesore. Also, Azek boards don't flake or split from weather and use making it easy for you to keep your deck looking new.
Durability
Azek is the Iron Man of deck products. Azek deck boards have been engineered to withstand mold, stains, cracking and scratches. If you have pets or are moving furniture around, there is no longer a reason to worry about damaging your newly installed deck. Spilled that cup of coffee you were enjoying? With an Azek deck, a wet cloth with soap and water will wash that away. You will no longer have that diary of stains left on your deck that can make your deck look aged and dirty.
Maintenance
Azek is the most low maintenance deck you could possibly have. Looking at the durability factors, you won't have to re-paint, you will spend less time cleaning it and you won't need to replace your deck for a very long time.
What about maintaining the cost? Although Azek products are more expensive initially to purchase and install compared to a traditional wood deck, there are fewer costs incurred over time because the look and functionality of the product last much longer. Looking at the long-term benefits, you will save money on future renovations, cleaning, and painting.
All in all, after your Azek deck is installed, your only worry will be when to take your vacation time to enjoy your new deck.
If you are interested in learning more about Azek composite plank board deck installations, give Mario LaFlamme Contracting & Renovation Ltd. a call at 780-235-4666 or email Mario@mariolaflammecontracting.com.

Mario LaFlamme
Mario has worked as a general contractor and renovator for over 19 years. He has a degree in Business & Management, and while in college operated a Student Painting Company, and was the most successful of his franchise colleagues. After college, he opened a renovation company in Quebec. He moved to Edmonton with the intention of improving his English and perfecting his skills in general contracting. He has worked for different contractors and learned many aspects of the business. He has built relationships with other contractors such as electricians and plumbers, who share his perfectionist attitude towards home renovation. Mario wants to help you have the best home lifestyle possible.